Squirrel fabric!
What do you think of this fabric?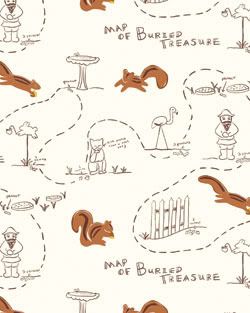 Cute, right? It's called Treasure Map by Wendy Slotboom (from her Frolic collection). This fabric reminded me of our
baby squirrel
encounter
this past spring.
It also reminded me of my brother...I don't really know why squirrel-related things make me think of him. So, I bought it and I might use it to make him a quilt. Probably a
big squares quilt
or similar. Maybe I can have it done by his birthday (in December...haha). Or maybe it could be a christmas gift for him
and
his fiance (because I can never figure out what to get them).
Of course, I'm not sure he would actually want a quilt (especially a squirrel-related novelty quilt) so maybe I'll make
myself
him something else.