Determined AND terrific.
Everyone seems to be doing something really cool these days. Like,
designing quilt patterns
or
writing books
or admiring
things made from their own fabric designs
.
I'd love to be doing any one of those things yet I can't because I feel bogged down by the weight of my unfinished projects. Projects I'm so unenthusiastic about that I don't even want to share them here.
I've always been the sort of person who gets more creative while avoiding a boring project. I feel so creative that I just
have
to start a new project, leaving the old one to lurk in the corner, staring maliciously at me, making me feel guilty. But then those
new
projects go unfinished and then
they're
the ones I avoid while starting new projects. A vicious cycle.
While I enjoy the random bursts of creativity, I know I'd be happier if I were the sort of person who didn't procrastinate. For the past few months, I've been trying to be the sort of person who finishes up those boring projects so they're out of her life. I've been trying to be the person who, when possible, takes those boring half-finished projects and turns them into something she's excited about.
My unofficial goal for the year is to finish a quilt a month. So far, I've finished two (one I haven't shown here because I haven't given it to its recipient yet). These were new quilts…start to finish in one month each but there are also a lot of previously started quilts on the to-do list for the year.
I'm never going to be the sort of person who can resist trying out a new idea when inspiration strikes (remember the
bento box
I was so whipped up about?) And that's ok because I'm
also
going to be the sort of person who
works hard
to finish up old projects, even if they aren't as exciting as new ones.
I'm going to be more like Dwight:
First on my list is a quilt I started way back in October of 2006. It was my first (and only) block-of-the-month project. I wasn't very good at keeping up with the group but I think it's because I lost interest in piecing traditional blocks about halfway through the year.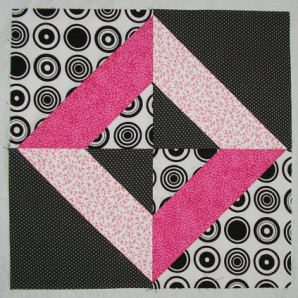 I think I can actually finish this quilt this weekend but I don't want to jinx myself. I got a good start last night during LOST and I can only imagine what I can accomplish when I'm not only sewing during commercials. Instead, I'll pop in a movie I've seen a dozen times and get to work. Good times!