So, where were we? Oh yes…I have four courthouse blocks to finish before I can move on to the next step in my bento box quilt. But, since I have enough completed to show you the next step, I'll do that now.
Take your courthouse steps blocks: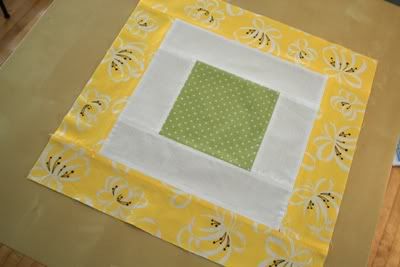 and cut them up like this: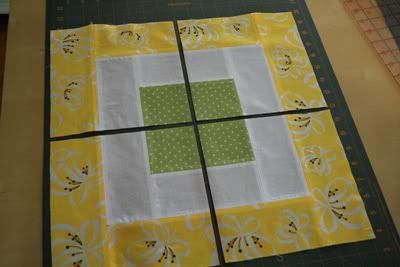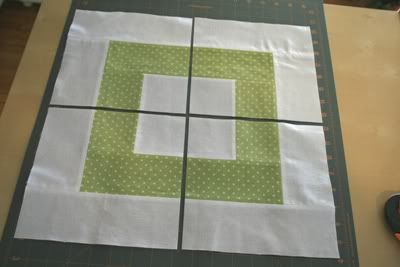 It's scary but I kept from freaking out by measuring twice and cutting once. Once you have all your courthouse blocks cut into four 8" blocks, rearrange them all like this: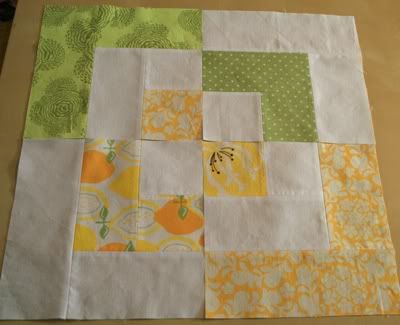 Then you'll sew them together which will give you a proper bento box block.
Normally when you make a bento box, you assemble the 8" blocks individually like in
this tutorial
that the lovely
urban-quilter
found.
I decided to sew one large block and cut it up to get my 8" blocks. The reason I did this was to save time.
Imagine you were sewing 4 individual 8" blocks like in the other tutorial. Each of those blocks has four seams. 4 seams x 4 blocks = 16 seams. Now, my courthouse block has only eight seams and once I cut it up, I have the very same four 8" blocks. Since each seam takes the same amount of time to mark, sew and press, long or short, I've saved half the time it would have taken me to assemble each 8" block on its own. Also, I saved some cutting time right from the start since the courthouse block takes only 9 pieces of fabric vs. the 20 for the four 8" blocks.
It took a bit of math to determine the size of the initial block so when I cut it up, the resulting blocks would all measure 8". I do everything I can to save time and these little tricks really come in handy. I'm not a fast quilter so I have to be a smart quilter.
For those who quilt or sew, what's your favorite time saving trick?