Custom ironing table
I got a question regarding my ironing table and rather than reply in the comments, I thought I'd do a proper post with pictures. First, I bought a
Vika Amon
table from ikea. It's nearly 2'x4' which is wide enough to iron an entire width of quilting fabric. It's also a very, very light table which is important because I like my studio to be flexible...I have to be able to move things around when I need more floor space for a project.
I bought two additional tables to use as my cutting table and my sewing table. I like things to match but it's also nice that they're all the same size and height (I push them together to make one large work surface for free motion quilting).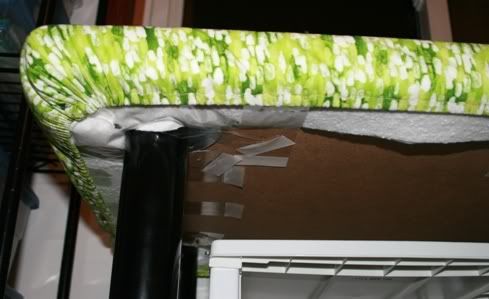 I found a picture of the underside...I hope it helps. I used four layers of cotton quilt batting and taped the ends underneath. At the time I didn't have a staple gun but the tape is easy to remove so I think I like it better anyway. To make the cover I cut a rectangle out of cotton fabric, turned over the edge and sewed to make a casing for the drawstring. There's a great
tutorial at the Purl Bee
. Next time I'll make the cover larger to cover more of the underside.
I read that using tinfoil between the layers would help protect my table but I couldn't stand the tinfoil sound so I took it out. If the table top gets ruined, I can buy another one for $15...but I'm pretty sure I'm never going to use it for another purpose anyway.
Also, the table stands lower than my traditional ironing board which might be a concern for some people. Fortunately, the lower height works well for me. I don't like to have to hold the iron too high because it gives me headaches.
Anyway, I hope that helps. I've found that a rectangular surface significantly decreases the time it takes to iron fabric. Now ironing yards and yards of fabric is fun, if you can imagine that. I still use my old ironing board for skirts...but pants and shirts work fine on the new ironing table.