Venetian: Day 7
First, thank you for sharing your opinions on my sleeves yesterday. After asking everyone I knew and counting your votes, the gold set is the clear winner. So, gold it shall be! And for all you red fans, don't be sad...I might wear them when I go back later in the season.
So, day 7 brings us a finished dress! Whew! I finished sewing the straps in their final positions, added lacing rings (so I can tie the sleeves to the bodice) and added a hook to keep the bottom points of the bodice together. I also found a little bag to hold my money and chapstick and I washed my sleeves and underthings. I also put a new layer of varnish on my flag fan to keep it from squeaking when I spin it around. Isn't it cute? I made it two years ago to use with the blue dress.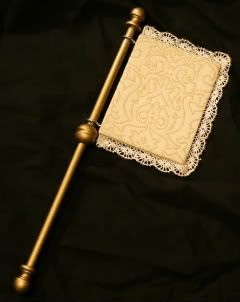 I couldn't find my hand knotted (by me!) glass pearl necklace but I found an old necklace in my costume box that I put to pieces and fixed up in the correct style. This was a lucky find because my jewelry supplies are at the new house along with most of my costuming supplies.
So that's it until I have pictures next week. I can't believe I made this dress in a week, not including sleeves. I'd need an extra day or two to make those.
Thanks for coming along on my dress making journey and for the nice compliments and support. Thinking about what I'd blog about the next day really kept me going through the boring/frustrating parts. You guys are the best!
Click here for the final installment.