Nords! I thought it was Friday!
Well, that's disappointing. If it
had
been Friday, I would have been well on my way to a three day weekend
and
a showing of Twilight at the $3 theater. (Hey
Allison
, I just might need that $3 after all!)
The real Friday will be fun. It's been a while since I had a night out with my friend Karrie. She's the one who's responsible for my Twilight obsession and it'll be her
third
time seeing the movie. Oh the perfect perfection of Edward…
Anyway…let's talk about something else. The lovely
Regina
(a fellow sewing
and Twilight
enthusiast…see? there's just no escaping the obsession) found my blog and asked me to share some of my sweet quilting tips.
First, I always use a rotary cutter, a self-healing mat and a clear plastic quilting ruler. They are absolute magic!
Until two weeks ago I was using a 6"x24" ruler. It was ok but sometimes I'd want to cut a strip of fabric, say, 10" and then I'd have to turn the ruler sideways and only cut 6" at a time. Then I bought this: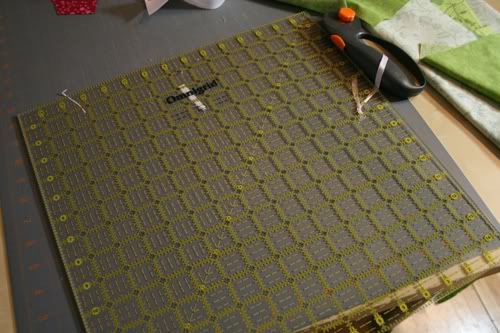 A 15" square ruler! It's the most wonderful thing in my quilting arsenal. You can square up blocks accurately in seconds, it's weighty so it doesn't shift when making long cuts and it has black and yellow markings so it shows up on all colors of fabric. I can't believe I went so long without this. I got it on "50% off all cutting tools" day at JoAnn Fabrics.
*edit* I don't do this next step anymore but if you're new to 1/4" seams, you might want to give it a try. *edit* I also mark all sewing lines with a tracing wheel (I used to use the tracing paper too but it was annoying to have to buy more all the time) and I use a lot of pins, the long quilting kind. They're expensive (in my world, $5 for pins is expensive) but they're worth it when you can get them on sale.
When I first started sewing I bought a White sewing machine for about $99. It weighed about 20 lbs and was deafeningly loud. It was raw power! Then a year ago when I started to get serious about sewing, I bought a Singer at the local quilt shop. It's whisper quiet and can do some fancy stitches. I like it now but it took some getting used to in the beginning.
I piece everything with a 1/4" piecing foot or, if it's already set up, my walking foot. They're both the same to me. I use a darning foot for free motion quilting (I can lower the feed dogs on the new machine) and the walking foot for straight quilting.
I always use cotton thread, cotton fabric and Warm and White cotton batting. I always
chain piece
and I iron all seams open.
When I finally get off my butt and work on the bento box again, I'll take some pictures of what I mean by all this. But that could be a while so I suggest you check out some of the blogs on my sidebar and see how all those talented ladies do things. There are some really great quilting tutorials out there.