Predator and Prey.
I very much wanted to quilt this week. My blocks for the bento box are coming along well. I'm also working on a gift for a friend. But this…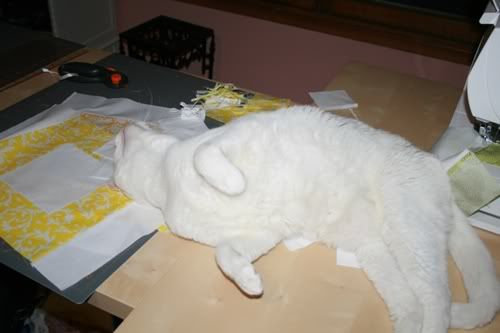 …THIS…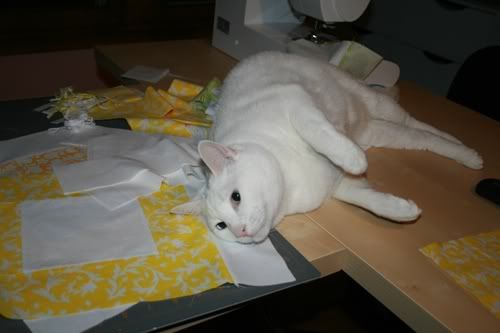 is making it very difficult. I'm cat sitting and this one insists on rolling around on my fabric. When I try to pick him up he either bites me or hooks on to the fabric with his sharp claws. I'm just waiting for him to bunny kick one of my blocks. Can you imagine the carnage?
I'm not a cat owner and, consequently, I'm uncomfortable trimming his claws. Also, he's resourceful and I'm sure he'd think of something much worse to do to my fabric. So, everything has been put away until they go back home. I'm picking up my boyfriend from the airport in a couple of hours (they are
his
bundles of joy) which means I won't get a chance to work on things until after dance class tomorrow evening. I have big plans for the hour or so before bedtime. I just might have enough finished to warrant another progress post.
I'll definitely miss the cuddly, sleepy kitties but it'll be nice when my fabric is once again safe from those who would do it harm.