Whew, now that my trip has been blogged, I can focus on more creative endeavors. This is sick…while sitting on the beach, I kept thinking about all the projects I wanted to work on when I got home. What can I say, my hands like to stay busy.
So, as promised, I'll take you along as I make my
yellow and green bento box quilt
.
In my opinion, the first step in making a quilt is to get some inspiration. Not the "oh, that's nice" sort of inspiration but the "I can't live another second without that!" sort of inspiration. I can't tell you how many unfinished quilt tops I have at my house because I wasn't really excited about the idea from the start.
Search through sites that offer free block patterns
(my favorite site but warning: music)
or take a look through sites like flickr or etsy for ideas. Sometimes I'll really hate a particular pattern until I see it done in colors I like…then suddenly it's awesome!
I don't usually buy quilt patterns but if you find one you like, I think a pattern is a good idea. They usually have nice directions and tell you how much of each fabric to buy.
Once you've decided on a block or pattern, you'll need to decide how large you want your quilt to be. Any block can be sized up or down. I want my quilt to be baby or lap sized. If each of my blocks finishes at 15" and I lay them out 3 blocks by 4 blocks, my finished quilt will be 45"x60" which just happens to be the perfect size.
The next step is to decide how many different fabrics you want to use. I decided on four yellows, two greens and white. I already had more than enough fabric in my stash so I didn't bother figuring out how much of each fabric I'd need. When I do need to figure it out, I use math or some graph paper. It's hard to explain here but you just need to figure out the size and number of pieces to be cut from each fabric and then figure out how much space those pieces would take up if they were all laid out on a 40"-42" wide piece of fabric…like filling up a Tetris screen. Remember that each piece needs a ¼" seam allowance on all sides.
My recommendation is to buy more fabric than you think you'll need because having extra fabric is nice. And make sure to buy quality fabric. In the beginning I didn't think this was important and I didn't change my mind for a long time. But now that I'm making things for other people, the thought of giving someone a quilt made with crappy fabric makes me cringe! I pay more for the good stuff but it's easier to sew and it won't fall apart after a few washings.
Just in case you wanted to know, I never pay more than $7.50 a yard (before shipping). (*edit*...it's now 2014 and quilting fabric costs around $10-12/yard. I still try to pay around $8 or $9 if I can...and look for free shipping if possible.) I also think it's important to pay a quarter of that for a fat quarter. A lot of people will charge up to $2.50 for a FQ but that adds up to $10.00 a yard. No way! I like to shop on etsy.com and find people who are willing to sell 4 different FQ's for $7.50 or less. I'm not cheap, I just feel a quarter of a yard should be a quarter of the cost. (*edit* in 2014 I still feel the same way!)
Moving on, for each of my 12 blocks I need to cut pieces in the following sizes:
Fabric A (center):
1 – 6"x6"
Fabric B:
2 – 3"x6"
2 – 3"x11"
Fabric C:
2 – 3"x11"
2 – 3"x16"
Start with the center piece. Sew two pieces of Fab. B to either side. Use a scant ¼" seam allowance. I also like to press my seams open instead of to one side.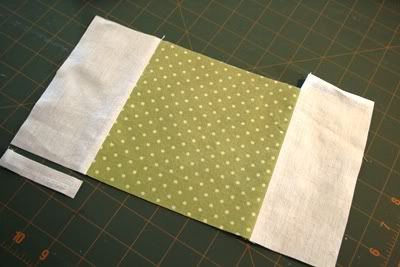 As you can see, I cut the side pieces a little longer than 6". This is so I can go back and trim them to the right size after sewing. Sometimes when I do Courthouse Steps blocks (which is the name of this block) my strips come out too short and since I can't seem to do anything about it, I cut all strips a little longer. Better safe than sorry.
Next, add the other two pieces of Fab B, pressing seams open each time: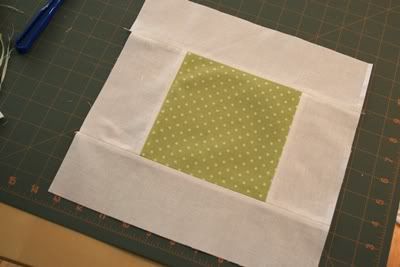 Add Fabric C in the same way until you finish the block. It should measure 16"x16".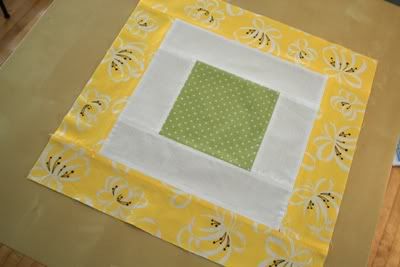 I need to make a total of 12 of these blocks. 6 will look like the one I just finished. The other 6 will have a white center, a color and then a white border. This plus another step will turn the Courthouse Step block into a Bento Box block.
Click here for the next installment.