Always a bridesmaid...thankfully.
Hey, I forgot to tell you guys…I'm going to be a bridesmaid! My very dear friends Laura and Brad are getting married sometime this summer/fall and we're already well into the initial stages of planning.
Laura and I have only known each other for two years but we've become good friends in that time. Despite being a friendly person in general, I don't make true friends easily. In case I never mentioned it before, I'm quite the introvert and homebody. This means I need
a lot
of alone time and it takes a certain type of person to understand my reclusive nature and not be offended when I don't want to hang out. Only Laura has managed to get me to leave my house on a Sunday which is, to me, the most sacred of all days:
Pajama Day
.
It's funny how quickly all my bridesmaid skills came back once Laura asked me to be in her wedding. When my friend Karrie got engaged five years ago, I put a lot of work into wedding research. It was necessary because up until that point, I hadn't ever really thought about weddings. Since her wedding I haven't really thought about weddings.
But upon hearing the news of Laura's engagement, the proper response clicked into my brain without a second thought…the bride must be wished happiness and the groom congratulations. Did you all know that? I know traditions and etiquette like that are no longer useful (nor were they probably ever useful) but I think it's sort of fun nonetheless.
Now that my bridesmaid programming has been activated, I'm getting excited for the planning. I'm definitely not a wedding sort of person but I like to throw parties and plan events and help my friends do the same. It's going to be a lot of work but also a lot of fun.
And just in case you were curious, here's a picture of me after Karrie's wedding 3.5 years ago.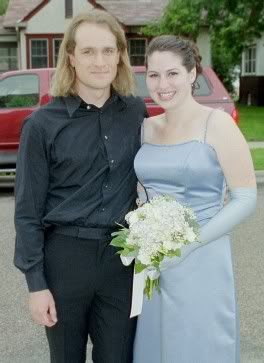 That's my boyfriend Ian! Oh to be 24 again...24 was a good year.