Guess what Ian and I saw last night: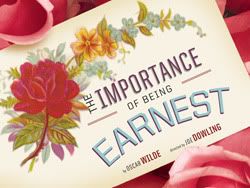 I'd never seen an Oscar Wilde play before (not even a movie version) and I have to say, it was very entertaining! Sometimes I wish I were a gentleman so I could be a dandy. Like Algernon...or
Chuck Bass
.
I knew nothing about
the play
before it started which was actually quite nice...the surprise ending really was a surprise (although not hard to figure out). I found the plot and characters to be delightfully silly and the dialogue snappy and witty. The whole thing was such a wonderful satirical look at the Victorian upper class. And, you know, there were pretty dresses, although the late Victorian
leg-o-mutton sleeve
generally isn't my favorite.
I wonder what sort of man my Bunbury would be...and it's true, one
should
always eat muffins quite calmly. Read on for my favorite scene...